Stand Sunday 2023
Will you stand with us?
With the arrival of November comes a pivotal day that holds profound significance for the Christian community and beyond. Orphan Sunday and Stand Sunday, on November 12, 2023, provide us with a unique opportunity to come together and recognize the vital need to care for the most vulnerable among us – foster children.
It's a day when we can collectively answer the call to action and make a lasting impact on the lives of children who yearn for love, care, and stability.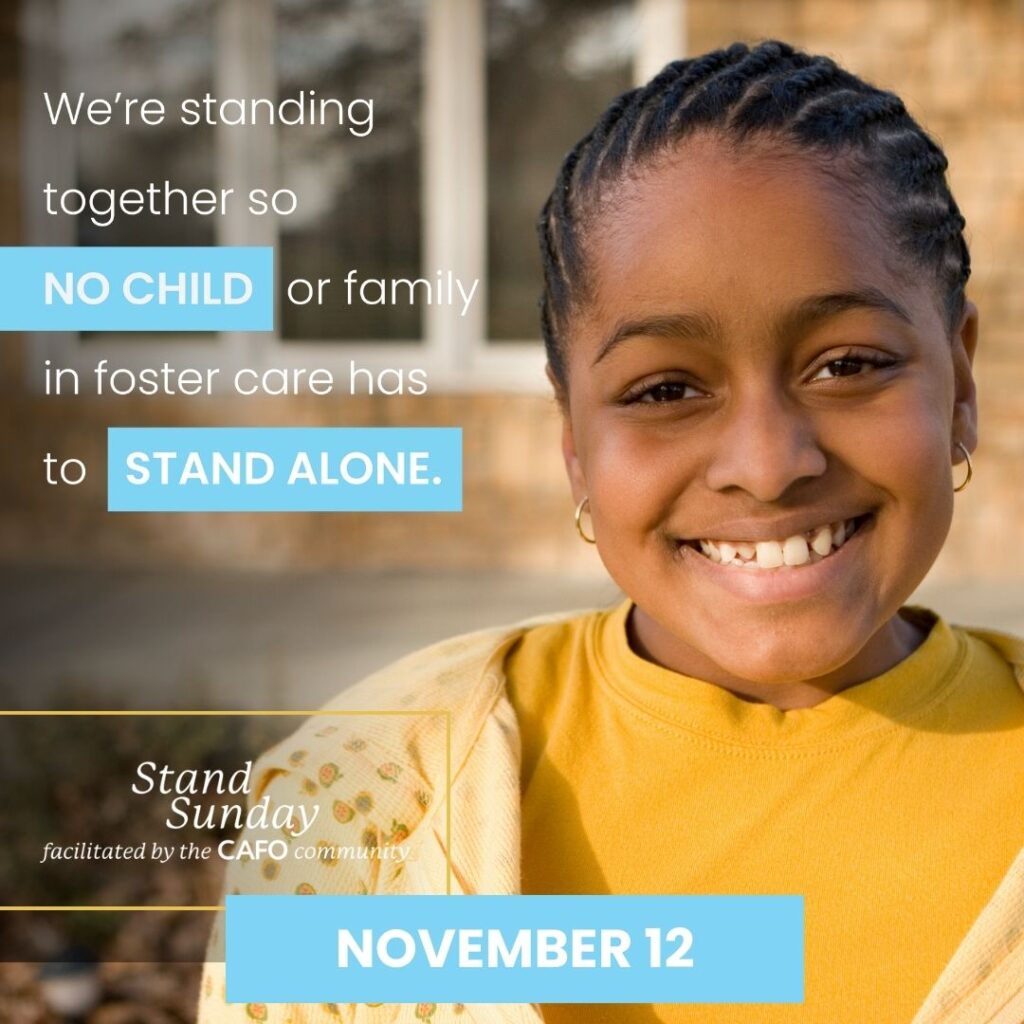 the bair foundation: a dedicated cafo partner

At The Bair Foundation, we are honored to stand in unity with the Christian Alliance for Orphans (CAFO) in bringing forward the lives of children in foster care on Stand Sunday. This annual event, observed on the second Sunday in November, serves as a powerful reminder of our daily commitment to equip and train foster parents to meet the unique needs of these precious children.
how can your church get involved?

Your church has a pivotal role to play in caring for foster children. It is our desire to partner with your church, not just to bring awareness, but to be the hands and feet and help children receive the love and stability they need to succeed. We cannot do it alone and our foster parents cannot do it alone.
Here are just a few ways that your church or organization can help: 
Information Sessions:

Organize regular information sessions to educate your members about the foster care system, its challenges, and the urgent need for foster parents and the free training that is provided by The Bair Foundation.  Invite foster parents and former foster youth to share their experiences.

Foster Parenting Classes:

Collaborate with organizations like The Bair Foundation to offer foster parenting classes at your church. This

provides

a tangible way for members to explore the possibility of becoming foster parents.

 

Prayer Groups:

Establish

dedicated prayer groups within your church to pray specifically for foster children, foster parents, and biological families. Encourage your members to pray daily for these vulnerable individuals.

Foster Care Awareness Events:

Host events that raise awareness about foster care in your community. This could include panel discussions, documentary screenings, or guest speakers who are experts in the field.

Youth Engagement:

Empower your youth group to get involved by volunteering

at

one of our

local foster care o

ffices

,

such as organizing birthday parties

, wrapping Christmas gifts, or helping with backpack drives.

Mentorship Programs:

Create mentorship programs that pair church members with foster youth. These relationships can

provide

guidance, support, and stability for these young individuals.

Support Networks:

Establish

support networks within your church to

assist

foster families. This can include meal trains, babysitting services, emotional support

or even just

participat

ion

in a game night.

Advocacy and Policy Engagement:

Encourage your congregation to get involved in advocacy efforts to improve the foster care system at a local, state, or national level. This could involve contacting lawmakers, attending hearings, or supporting legislative initiatives.

 

Donate:

While our primary goal is to place children in stable and loving homes, we know that not everyone can foster. Check with your local office on the needs

of our current families to see where your gift can make a difference. The Bair Foundation offers several scholarships.
the urgency of fostering

Participating in the CAFO and Orphan Sunday/Stand Sunday initiative reinforces the pressing need for foster and adoptive families. Countless children are waiting for loving homes, and we often resort to turning them away due to the shortage of available families.
you can make a difference

If you would like to make a profound difference in the lives of foster children, reach out to us today. We are happy to provide a representative or current foster family to speak at your church, participate in events, share informative videos, or offer guidance on how your congregation can support foster children.
Communities that support foster families are able to thrive when they work alongside their church family. We need your church to pray for kids in foster care, foster parents, and the volunteers who work tirelessly to create a stable future for these children.
To invite a Bair representative or current foster family to speak at your church, table at an event, show a video, or to find out ways your congregation can help foster children, contact us today!
resources

Here are some available resources for you to help bring awareness to Stand Sunday.
There are over 400,000 children in U.S. foster care and over 100,000 children available for adoption.
We need your help to stop horrific child abuse and neglect. We are doing all we can, but we just can't do it alone.
Become a Foster parent